Golden Glow's Sailboat Movie Theater – Updated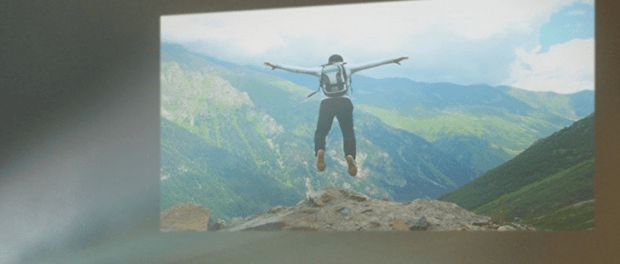 **** We upgraded our on-deck movie-watching experience by adding bluetooth speakers and a portable, lightweight, inexpensive, screen ****
In anticipation of spending more time at equatorial latitudes in the South Pacific, we had a sunbrella canopy made that covers the whole front of Golden Glow.
It gives us the sense of having doubled our living space. We'll use it when we are at anchor to give us more shade during the day – and for an al fresco dining/living room even when it's raining, a movie theater and maybe even ballroom dancing at night : )
Projector
I cringe when I think back to how much money I spent on a big, clunky Sony movie projector in 1998 that hung from the ceiling in our house in California…and how short a life it had before technology offered better for less.
Our current projector keeps dropping in price on Amazon – and that includes the fully functional tablet it's contained in.
Now we sit in our comfortable deck chairs and watch movies, drone and other videos and even photos, projected against the inside of our canopy.
Sound is provided on bluetooth portable wireless speakers. We sometimes use these ones that we mount on the stanchions and sometimes when it's only the two of us watching we just use this small portable speaker
Screen Quality Upgrade!
We added a very inexpensive, lightweight projector cloth that we stretch taught and project our movies onto. It could also be hung inside a boat or from stays – pretty much wherever you can stretch it out. We've now even used it by itself, without the sunshade, and it is fantastic to watch a movie with the stars surrounding your screen. It folds up so we can put it away in a small space in a cabinet when we're not using it.
Here's the link where we bought the screen. We were delighted by how reasonably priced it was for the substantial increase in picture quality it gives our projected films.