Golden Glow's Sailboat Movie Theater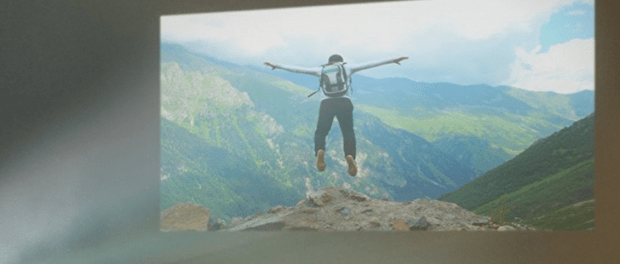 In anticipation of spending more time at equatorial latitudes in the South Pacific, we had a sunbrella canopy made that covers the whole front of Golden Glow.
It gives us the sense of having doubled our living space. We'll use it when we are at anchor to give us more shade during the day – and for an al fresco dining/living room even when it's raining, a movie theater and maybe even ballroom dancing at night : )
Projector
I cringe when I think back to how much money I spent on a big, clunky Sony movie projector in 1998 that hung from the ceiling in our house in California…and how short a life it had before technology offered better for less.
Our current projector cost only $499 – and that includes the fully functional tablet it's contained in. Wow!
Now we sit in our comfortable deck chairs and watch movies, drone and other videos and even photos, projected against the inside of our canopy.  Sound is provided on our portable wireless speakers. So enjoyable!
Perhaps next we'll add blackout and improve the screen materials, but for now, we're very happy with our Golden Glow version of Cinepolis.