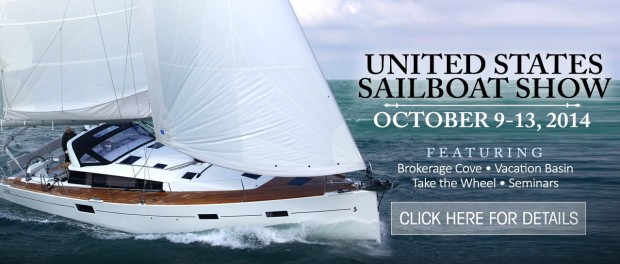 Bound for the SailBoat Show in Annapolis, MD, we left New England and sailed south from NY along the Atlantic Coast. We stopped for one night in historic Cape May, NJ where we filled up on Lobster Rolls, local fudge and local beer as well as an eyeful of Victorian architecture.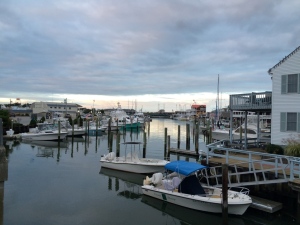 After a night in Cape May, we set out before dawn the following morning, using the night's dew to clean our decks, and set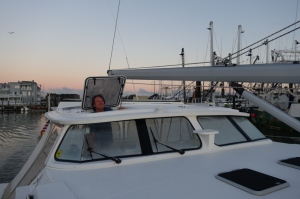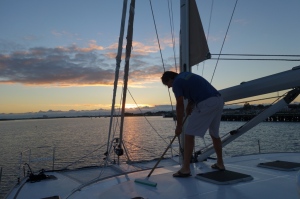 sail around the point and then up the Delaware Bay to the C&D Canal. 
Near the canal, on the eastern shore of Delaware Bay is a large nuclear power plant spewing what I'm guessing is steam from a cooling tower.
We felt some time pressure as it was almost sunset as we dropped anchor in the basin at Chesapeake City. It was a muddy bottom that required us to clean our anchor chain when we pulled anchor in the morning, but it was a good hold and we slept well.
The morning brought fog to the canal but visibility was adequate – fortunately because there were some large container ships that took up most of the canal.
Once we got to the Chesapeake Bay, we turned south. We started seeing crab boats and the waters were dotted with constant crab pots and lines so we were vigilant at the helm.
It's good our eyes were attentive because we started seeing new obstacles that we hadn't expected. Near the mouth of the Canal, we had to avoid logs and even whole trees that were floating in the water!
We had to motor much of the way south because we were heading straight into the wind. We passed under the impressive Chesapeake Bay Bridge   and then it's wasn't far before we headed right into Annapolis Harbor and docked right at City Dock at the base of downtown.
In Annapolis, there were astronomical high tides that flooded streets and submerged parking lots and even the docks near our slip. It was quite a sight, and makes walking around downtown literally a hop, skip and a jump!